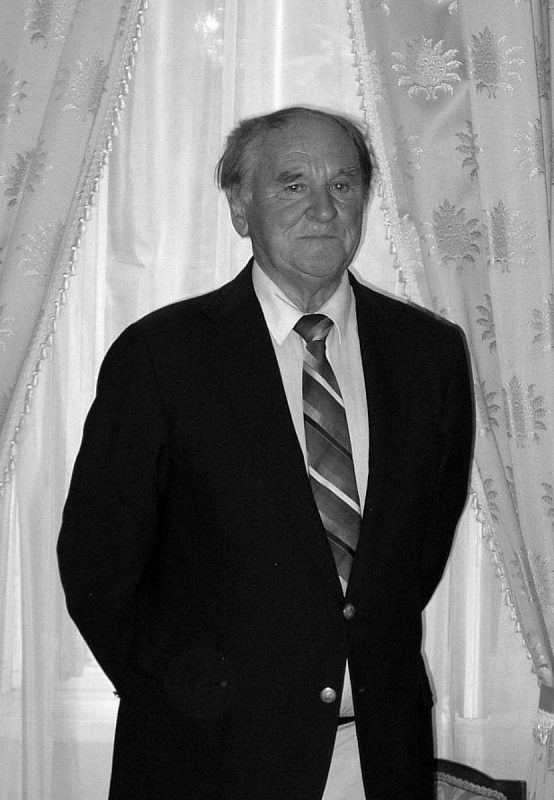 It is with great sadness that we learned of the death of Prof. TADEUSZ LAPINSKI (1928-2016), who passed away on September 14, 2016, in Florida.
Prof. Lapinski was one of the most prominent graphic artists of the 20th century, a great painter, distinguished art professor at the University of Maryland, true patriot, great friend of our Museum, and man of many talents.
His works of art are on display in museums all over the world, including The Museum of Modern Art in New York, The National Museum in Warsaw, The Central Institute of Art in Beijing, China, Albertina in Vienna, Austria, the National Library of France in Paris, Gallery of Modern and Contemporary Art in Turin, Italy, The National Gallery of Canada in Ottawa, and San Francisco Museum of Art. Some of them are home at The Casimir Pulaski Museum in Warka.
Prof. Lapinski was a great visionary like Andy Warhol and Mark Rothko. He was a lecturer and university professor, a master of lithography, one of the most recognizable contemporary graphic artists; he developed a split color printing technique, which gave his works a rainbow effect (in Polish called rainbow print) and revolutionized color lithography. He was a citizen of the world who never ceased to love his Polish homeland, and especially his little cottage with workshop in Grodzisk Mazowiecki, Poland.
This great artist was born on June 20, 1928 in Rawa Mazowiecka, Poland. His parents named him Tadeusz Andrzej Bonawentura Lapinski after Tadeusz Kosciuszko. His artistic soul took after his grandfather, who too was a graphic artist and engraver. The little boy gladly drew and painted. Lapinski graduated in 1955 from the Academy of Fine Arts in Warsaw in painting led by Prof. Artur Nacht-Samborski and in graphic arts led by Prof. Jozef Pakulski and Prof. Jozef Tom. The young artist took a teaching position with the Arts Club in Grodzisk Mazowiecki. However, his energetic and tireless personality did not allow him to put down roots just yet. He left Poland in 1963 and travelled to Yugoslavia, France, and Brazil, to finally settle in the USA. Here, he married another artist, Maria Aust, the grand granddaughter of painter Jozef Chelmonski. Since 1972, he was a professor at the University of Maryland, College Park, shaping young talents in painting and graphic arts. In 1978, Prof. Lapinski was awarded Kosciuszko Foundation Scholarship.
It was a great honor and pleasure to have met such an extraordinary man. For many years, Tadeusz, as he liked to be called, regularly visited Warka and The Casimir Pulaski Museum. Our relationship was not just professional. It was a friendship, which began in 1997, when The Casimir Pulaski Museum in Warka hosted his first exhibition. Prof. Lapinski would come by whenever he visited Poland, which happened almost each summer. Between visits, he would often call and tell us about his successes, shows, family and friends, many of whom lived in Warka. Lapinski would often draw portraits and caricatures of them. We knew about his upcoming exhibitions, were present during previews, and got to know his loved ones. He involved us in his life, and we were enchanted with his positive energy and warm personality. We admired his talent, joy of life, and vigor. Over the years, we often had the honor to display his graphics, paintings, and drawings. He was a frequent guest at Museum events, exhibitions, Pulaski Day celebrations, concerts, and meetings. We all knew his life stories and adventures: the one when he as a little boy saw Adolf Hitler in Anin in 1939; one involving the first meeting between him and Andy Warhol, Marek Rothko, and Czeslaw Milosz; yet another one about his meetings with heads of states and authorities of different counties, including his beloved Island of Krk in Croatia. We knew the account of his meeting with Pope John Paul II, who blessed his home; learnt about the great joy he felt whenever he was awarded a prize; and the pride which filled him upon learning he was awarded the title of Grodzisk Mazowiecki Honorary Citizen.
As one person once beautifully put it: "his imagination knew no boundaries and his thoughts knew no limits; he felt the constant need to discover, a drive to find something new. Probably it were those traits of character that prevented him from being pigeonholed as a classic artist, though his works of art are among ones in the greatest museums of the world. He did not wish to be a serious academician. However, his teaching skills were undeniable, and he was even rewarded the title of professor emeritus. With lithography being his element and kingdom, he did not fear to use new expression forms. He never stopped to create, even when he was in hospital. He did not nor would he consent to the artistic part of his life being over. Trough his work, Tadeusz Lapinski became a citizen of the world. He felt at home wherever he went. He was friends with whomever he met. He had the distinct talent of enchanting everyone he talked to with the unique charm of the always-smiling lover of life. He was a tireless storyteller, who would skillfully unveil the ever more exotic elements of his autobiography."
For his wonderful works of art and skillful teaching, Prof. Lapinski was awarded many prizes. In 2008, the Ministry of Culture and National Heritage of the Republic of Poland awarded him The Medal for Merit to Culture – Gloria Artis. In 2012, he received a Knight's Cross of the Order of Polonia Restituta.
Nobody loved life more than Tadeusz Lapinski. He understood people, and had many friends all over the world. He will forever be present in the storybook of The Casimir Pulaski Museum in Warka and our hearts.
We ask his bereaved wife, children, family and loved ones to accept our sincerest condolences.
Iwona Stefaniak
The Casimir Pulaski Museum in Warka Director with Staff
Warka, September 15, 2016