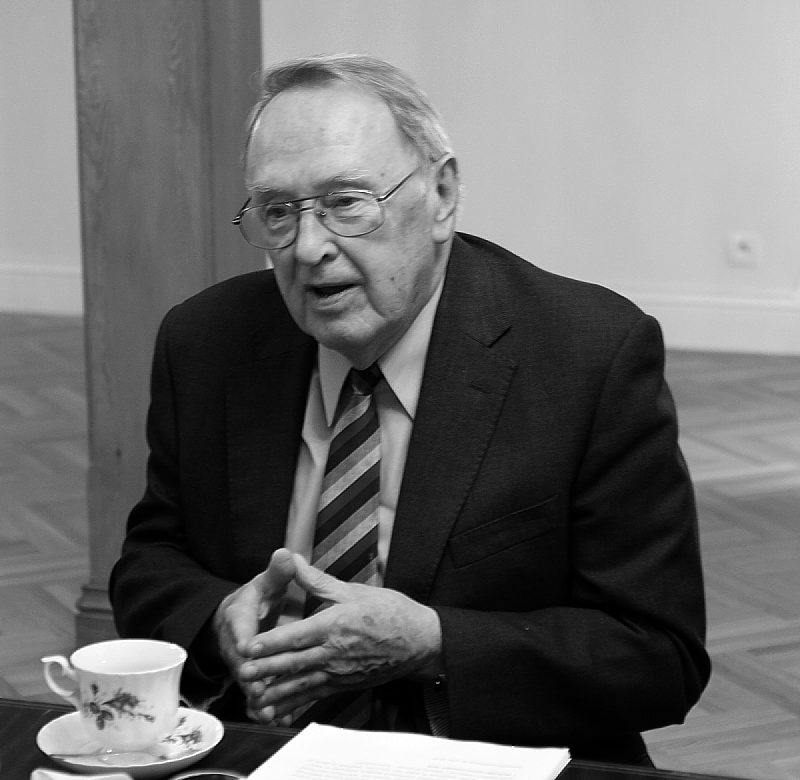 It is with great sorrow that we relay that Marian Soltysiak, PhD passed away on October 21, 2016.
This great art historian and museum expert was head of the Mazovian Museum in Plock (Muzeum Mazowieckie w Plocku) from 1961 through 1977. In 1977, he founded the Manor Protection and Preservation Board at the National Museum in Warsaw (Zarzad Ochrony i Konserwacji Zespolow Palacowo-Parkowych Muzeum Narodowego w Warszawie), which he headed up to the year 1980. In the years 1980-1986, Soltysiak was Deputy Director of the Royal Castle in Warsaw. Later, he headed the National Museum in Warsaw (until 1990) and in the years 1990-1999, he ran the Arx Regia Publishing House at the Royal Castle in Warsaw (Osrodek Wydawniczy Arx Regia Zamku Krolewskiego w Warszawie). From 1992 through 2000, Soltysiak was managing director at the Patrimonium Foreign Enterprise (Przedsiebiorstwo Zagraniczne Patrimonium) in Warsaw. From 1998 through 2007, he was CEO of the Society for the Preservation of Historical Monuments (Towarzystwo Opieki nad Zabytkami), and later became its honorary member. From 2006 through 2013, Soltysiak taught at the Pawel Wlodkowic University College in Plock (Szkola Wyzsza im. Pawla Wlodkowica w Plocku) and the Pultusk Academy of Humanities (Akademia Humanistyczna im. Aleksandra Gieysztora w Pultusku).
Marian Soltysiak, PhD contributed greatly to the development of local communities and was an active member of many organizations. Most notably, from 1965 through 1970, he was a member of the Art Historian Association (Stowarzyszenie Historykow Sztuki), and later became Deputy Chair of the Association's Warsaw Office. In the years 1991-1997, he was Secretary General of the Association's Management Board. In 2004, Soltysiak earned the title of the Association's honorary member.
From 1968, Soltysiak was an active member of the International Council of Museums. In 1998, he joined the International Council on Monuments and Sites. Later, he was board member of the Warsaw Society of Friends of Fine Arts (Warszawskie Towarzystwo Przyjaciol Sztuk Pieknych), and in the years 1981-1989, he was member of the Mazovian Cultural Society (Mazowieckie Towarzystwo Kultury). He contributed to numerous museum councils at national museums in Krakow, Poznan, Warsaw, and other institutions of culture.
In 2004, his efforts to preserve monuments and historic sites were awarded a badge "for the protection of monuments and historic sites" (Za opieke nad zabytkami), and in 2006, he received the annual "Award by the Minister of Culture and National Heritage" (Nagroda Ministra Kultury i Dziedzictwa Narodowego).
From 2011 through 2015, Marian Soltysiak, PhD was a member of our Museum Council. Our last meeting took place on September 22, 2016, during the 10th grand gala of the "Willow: Mazovian Museum Events" ("Mazowieckie Zdarzenia Muzealne – Wierzba") at the Museum of the Mazovian Countryside in Sierpc (Muzeum Wsi Mazowieckiej w Sierpcu).
Today, we bid farewell to a colleague and dear friend, who acted as a protective spirit of several regional museums. He gladly shared his expertise, and was the source of numerous ideas how to develop the museum chain in Mazovia. He knew the people involved in implementing them and was familiar with the museum's collections. We will always remember Marian Soltysiak, PhD as a distinguished museum expert, a wise and helping colleague, and a warm-hearted friend.
We ask his bereaved family and loved ones to accept our sincerest condolences.
Casimir Pulaski Museum in Warka Director and Staff